Hey, all -  I'm a stranger here, sort of, though for awhile my
Webomator
blog was syndicated on the home page. So in a way I've extended a pseudopod into dieselpunks.org without even knowing it at first.  That's kind of a rude thing to do with your pseudopods in polite company, I guess.  Well. Oops.
Anyway I've just launched a new project that I'm pretty excited about, and if you can get past that thing with the pseudopod, you might like it too: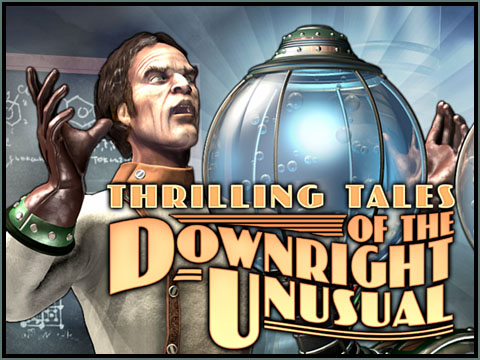 Thrilling Tales of the Downright Unusual
is a series of (densely) illustrated and (lightly) interactive stories from the retro future that can be read in their entirety at the web site (for free!) or purchased as full color books (not for free!). There are also some free downloads like desktop wallpapers and screen savers and, for the moment, a single diversion in the site's "Derange-O-Lab". That's the
Pulp Sci-Fi Title-O-Tron
, a random pulp science fiction title generator.
The first Thrilling Tale is "Trapped in the Tower of the Brain Thieves" which is itself the first part of a longer serial called "The Toaster With TWO BRAINS". Yep. That's what it's called, all right. There's a trailer for the project: you can find it on the front page of the Thrilling Tales site. Please do!