It's a new revolution in art: Animated Drawings!! 
Ain't it amazing what the new flicker pics can do today?  For the past few years we've gotten to see new and amazing things done with the motion picture camera including amazing cut-scene effects that let you heighten dramatic tension, and we've seen photo-manipulations that let us create impossible images.  Yet until just recently no one has thought to combine the two techniques. [image from wikimedia]
Enter Windsor McCay and his amazing trained Dinosaur "Gertie".  Sure, you may have seen "Little Nemo" or Mr. McCay's earlier "How a Mosquito Operates" a few years' back and been amazed, but such "trick films" are a long cry from Mr. McCay's amazing blend of animated drawing and the smooth movement and personality he puts into it.
Never before has (and perhaps never again will) such a revolutionary improvement in special filming effects amazed audiences.
So, my audience for the Cabaret's first live motion picture event, behold...and be astounded by...the Amazing Gertie!
Incredible what they can do with film these days, is it not?
Let us now enjoy a libation to help animate your spirits as well, the Colleen Bawn cocktail, a sweet, rich concoction even a hungry Dinosaur could love.  Collen...meet Gertie.  Gertie...Colleen! 
No...no Gertie!! Don't drink the whole thing at once!  Save some for the rest of the guests!  Bad Dinosaur!!
Fiddlesticks...
Anyone have a forklift capable of hauling a passed out Dinosaur back to her pen?
Colleen Bawn Cocktail: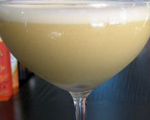 [image from sheknows.com]
1 part Rye Whiskey
1 part Yellow Chartreuse
1 part Benedictine
1 egg*
1 tsp Simple Syrup
 Beat egg thoroughly with syrup.  Add rye and liquers and shake well over ice.  Strain into a cocktail glass and strain into a cocktail glass.  Grate cinnamon and nutmeg over the top.  Note: "1 part" is traditionally ~3/4 oz in the original 1903 recipie, but many modern afficionadoes find this too eggy and increase it to 1 1/2 oz per part and make two cocktails per egg.  Don't be like Gertie...drink responsibly!!
* Warning: raw egg can in rare circumstances carry foodborne illness.  If you're a coward or have a weak constitution try this with cream instead.