Out of the inkwell and into your heart, it's Koko the Clown!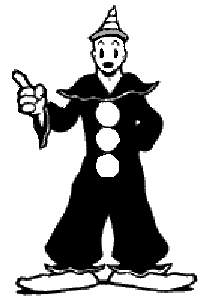 Yes, Max Fleischer, the new master of animation, is stunning the world with new and exciting animation techniques in his Out of the Inkwell series, and capturing its heart through his lovable Koko the Clown.
Thanks to his amazing "rotoscoping" process, which carefully overlays each image being drawn onto a corresponding motion picture still, Fleisher is able to capture the realistic movement of live action with animation. 
Add to this his blending of live performances (mostly of himself) and his clever use of strange humor and the limitless possibilities of the animation medium and you have a modern master of the animation art.
Fleischer is a true superman of animation.
And Koko the Clown is his masterpiece, a lovable clown who just won't seem to do what his animator wants him to do.
For our first view of this amazing talent, we'll see where Koko began, with 1919's "The Tantalizing Fly".  This one mixes live action and animation as both the living artist and the yet-to-be-named clown battle a pesky fly. 
The joke is on the artist when his creation comes to life and takes the pen!
Amazing motion, yes?  Realistic in ways never before seen in animation!
Next we visit a more mature Koko as he flies off to distant Mars in 1924's "Koko the Clown - a Trip to Mars", experiencing just how odd the Red Planet might be:
An astounding visual treat!
And speaking of visual treats, tonight our select few back room guests will enjoy a visual treat of a different kind, and one which should only be attempted by experienced bartenders, Professor Jerry Thomas' classic flaming Blue Blazer Cocktail:
Blue Blazer Cocktail:         ADVANCED!!  Flaming cocktail; use Caution!
[image from shakeandstrainblog.com]
 2 oz Scotch Whiskey
1 1/2 oz Boiling Water
Sugar or Syrup to taste
Pour Scotch, water, and sweetener into a handled metal cup such as a pewter cup or silver mug (one of two you will need).  Carefully light on fire. Roll the flaming concoction 4-5 times between the two mugs then pour into a heat-resistant serving mug and garnish with lemon peel. 
Warning: this is a flaming cocktail and (duh) you could do serious damage to you, a friend or loved one, or your property if you're careless and/or stupid.  Do not attempt if you've been drinking or don't know what you're doing.  In fact, it's best to leave this drink to professionals, but if you insist on trying it at home (not advised!), use the following precautions (from David Wondrich's Imbibe):
Pour over a tray full of water.
You don't want the fire to go out while pouring.
Pour only 1/2 of the contents each time.
Mix it quick as the handles will get hot.
Turn the lights down for effect and to make it easier t see what you are doing.
Practice with water first
Go outside the first few attempts at flaming