It's a high tech Christmas this year at the Cabaret, my friends, as we experience the great techological advances that are driving the world via the medium of Animation!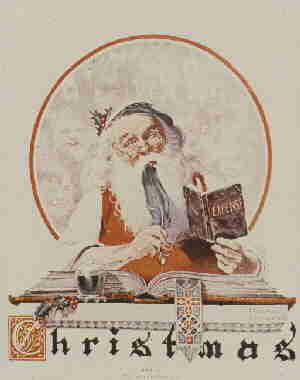 Yes, folks, for tonight's Yuletide we will light up the projector rather than the Yule Log and watch some of the latest in cartoon animation, this time aimed at the Christmas season.
Christmas and the Holiday Season has always been seen as a time of tradition and hearkening back to the past, but today we shall look to the future here at the Cabaret and take Santa into the 20th Century and beyond!
Christmas has seen plenty of art over the years with depictions of Nativity or Santa Claus produced every year.
Even modern artists, such as the great magazine artist Norman Rockwell have brought a more modern perspective to the jolly old elf (pictured)!
Yet the technological marvels of our day have brought Santa to life like never before, and to that end we at the Cabaret feature some of the latest and greatest animated marvels to portray the traditions of Christmas.  We're talkin' motion, sound, even color!
First, Otto Soglow's newspaper comic strip Little King comes to life in Little King's "Pals", aka "Christmas Night".  In it we see the Little King as he learns what the Christmas season is all about when he extends Christmas joy to to two tramps.
The Little King and his Pals certainly seem to be having a gay Christmas together.  
Next we take a crazier view of things, visiting "The Shanty where Santy Claus Lives". This piece with its catchy tunes captures the technology of synchronized sound and the revolution it brings!  The Great Depression has his a lot of us hard. To this end Warner Studios' Merry Melodies takes us to Christmas in Hooverville [warning: brief offensive content].
Oh, the lighter side of abject poverty!
And finally, we view the amazing power of color, the latest and greatest technological advance to grace our world in Max Fleisher's "Christmas Comes but Once a Year:
Incredible! Not just color, but depth and perspective!  Did you see that rotational shot? The capabilities of technology today, eh folks?
And with these lovely Christmas images dancing in your head like sugarplums, here's tonight's holiday tipple, the classic Egg Nog:
Eggnog Cocktail:
[image from whatscookingamerica.net]
1 1/4 oz Whole Milk
1 Egg Yolk*
1 oz Brandy, Rum, or Whisky to preference
1/2 oz Simple Syrup
 Shake all very well over ice.  Strain into a highball glass or glass mug.  Garnish with fresh-ground nutmeg.
* Warning: raw egg may carry risk of foodborn illness.  Substitute pasturized premade eggnog if you prefer.
Merry Christmas, Chaunukah, Kawanza, Eid, Solstice, Saturnalia, or what have you from the Cap'n!!