Animation is taking an adult turn here at the Cabaret as new cartoon sensation Betty Boop heats up the screen!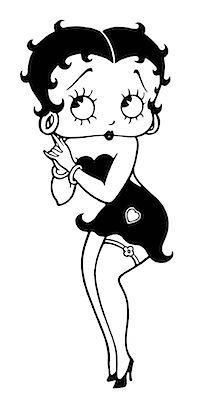 Boop-Oop-a-Doop! 
Max Fleisher has done it again, folks!  The man who brought you Koko the Clown is tackling the Flapper phenomenon head-on with a jazz age Venus named Betty Boop. 
With her short dresses and pouty lips, this hot little number is certainly taking animation in a new and racy direction. 
With lusty villains and suggestive lyrics, the Betty Boop cartoons are shocking the older sensibilities while making the young folk gasp in deight at the daring-do of Fleisher and company. 
Not only that, but some occasional what may or may not be references to illegal substances are setting the moral authorities aflame in a different way.
Already some are calling for her "sinful" cartoons to be banned from polite company.
Thankfully folks here at the Cabaret can never be accused of being "polite company", so let's run some reels, hepsters!
Be warned, though, folks. 
These cartoons may be shocking to any less hep members of the audience!
So without further ado, here's Betty showing us that sometimes a gal's most important asset is her Boop-Oop-a-Doop.
Meanwhile, with swinging musical guests like Louis Armstrong and Cab Calloway Fleisher's creating a cartoon for the younger, more modern viewer.  Here Cab gets Rotoscoped into the film as the hipest haunting I've ever seen:
If her having a dog for a boyfriend (Bimbo) bothers you, try to remember that she started out as a dog herself! Check her out with ears intact in The Bum Bandit:
Hmmm...what are they doing in the train without their clothes?  Didn't expect the ending to be that racy, did ya', folks?
And let's not even talk about what's going on in Dizzy Red Riding Hood!
Wow...
One thing is certain, and that is that Betty is taking the world by storm!  She's eclipsed co-stars Koko and Bimbo and is selling out theaters.  Meanwhile Betty Boop toys and merchandise are clearing the shelves at Woolworth's as fast as they go on to them.
But not everyone is happy with the Boop-a-Doop. Popular singer Helen Kane sees a little too much of herself in the character and is suing Fleisher for a whoping $250,000 for stealing her look, manerisms, and voice!  Is there any standing on this? You be the judge: 
So while we certainly wish Miss Helen Kane the best of luck in the future and look forward to her next performance, we here at the Cabaret also hope to see more of the lovely young animated lass Betty.
Boop-Oop-a-Doop!
And now, tonight's libation! What we need to go with Betty is something else that's sweet like strawberries but intoxicating like champagne and cognac.  What better than the Champagne Bowler?
Champagne Bowler Cocktail:
[image from cocktails.about.com]
3 fresh Strawberries
1/2 oz Simple Syrup
1/2 oz Cognac
1 oz White Wine
4 oz Champagne
 Muddle strawberries with simple syrup in a cocktail shaker. Add ice. Add wine and cognac. Shake well and pour all contents (do not strain!) into a wine goblet.  Top with champagne. Garnish with a strawberry. (Hint: this cocktail is a good use for leftover New Year's Champagne!)
Boop-Oop-a-Doop!