Walt Disney and Ub Iwerks are back, and this time with sound!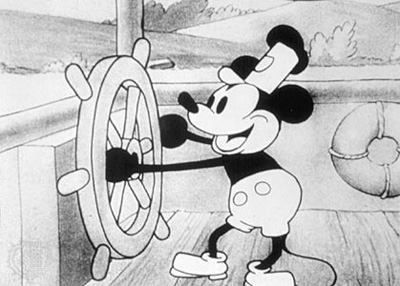 Yes, folks, the new "talkie" revolution which began with last year's The Jazz Singer has spread to the world of animation.
And this time it takes the form of a cute and somewhat familiar looking mouse named Mickey.
Combining synchronized music, dialog, and sound effects with clever action, cutting edge animation artistry, and delightful dialog, Steamboat Willie has singlehandedly revolutionized the art of animation.
This leaves only the "color barrier" left, and if Kodak ever manages to get their experiments to be commercially viable, even that may soon be broken (oh, the amazing age in which we live!).
Whatever may be in store, there's little doubt that Disney's talkie triumphs represent the face of animation to come (though we at the Cabaret regret the loss of potential gigs!).
And boy is it a fun ride!
Animal abuse: hilarious entertainment for the whole family!
What amazing use of the sound synchronization!  And don't ya' just love that adorable little falsetto?
But wait, there's more Mickey to come!  Though created earlier, Disney & Iwerks' Plane Crazy is just now being released, and guess what, folks, the Cabaret has an advanced copy just for you our audience!
Oh, boy!  What a ride!
So let's all celebrate the new and exciting era of sound with a "noisy" drink, the Imperial Fizz!
Imperial Fizz (aka Whisky Fizz):
[image from worldsbestbars.com]
2 oz Blended Whisky
1 oz Lemon Juice
1/2 tsp superfine Sugar
4 oz Club Soda (ideally fresh-made through a siphon bottle!)
 Add whisky, lemon juice, and sugar into a cocktail shaker.  Shake well and pour over ice into a highball glass (with ice).  Top with soda.  Stir well