Animation has exploded onto the sivler screen like never before!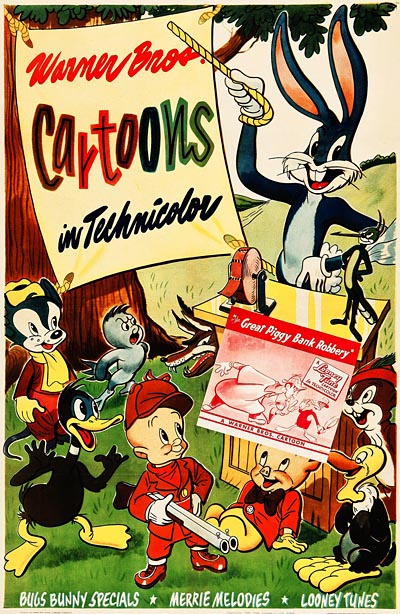 It's everywhere, folks, with shorts from every studio you care to name.
There's hardly a movie on the silver screen that doesn't feature an animated short beforehand alongside the newsreel.
Warner Brothers, Fleisher Studios, Walt Disney, Universal, MGM, a hundred small start-ups...it seems everybody is into the animation game now.
And each studio is in a bidding war to attract...and keep...the best talent in the business.
And with the surprising sucess of Disney's Snow White, even feature-length animation may be here to stay.
It's an exciting time to be an animator, and an exciting time to be a viewer.
First let's start back with good old Fleisher Studios, the men who made animation profitable. We've followed their work from the earliest experiments in Out of the Ink Well and through the surprising sucess of Betty Boop and Popeye the Sailor.
While their feature-length foray, Gulliver's Travels, may be the talk of the town, we at the Cabaret are enamored with their work with the Man of Steel. Their cutting edge animation lends itself well to bringing Siegel and Schuster's Superman to life.
In hindsight it seems obvious Superman was never meant to be kept confined to the still pages of the comic books, and the Fleishers are proving once again that they're still the masters of animated movement through their Rotoscoping process.
To that end, let us watch him battle a Mad Scientist in their first foray, titled simply "Superman":
It's a Bird, It's a Plane, it's...amazingly animated, for damned sure!
Next, let us check out what Universal is bringing to the picture.  They still occasionally give good old Oswald some screen time, but other characters have pushed Disney and Iwerks' old creation aside. Their cute "awww-shucks" character Andy Panda has been a real hit, but his prominant place may be in jeopardy as a wacky meant-to-be-one-time foil named Woody Woodpecker so stole the scenes that they're putting out a series of shorts featuring just him!
Here's the short that started it all, Knock Knock:
 A-hahaha-ha! A-hahaha-ha!
Ahem.
Then there's MGM with animators William Hanna and Joseph Barbera who, recovering gracefully from the disastrous Captain and the Kids, have come up with a simple formula: cat chases mouse, mouse turns tables on cat. Meet Tom and Jerry in their first appearance (back when they were "Jasper and Jinx") in Puss Gets the Boot (warning: potentially offensive material; "Mammy" stereotype character*):
It's funny, but I doubt you can make a decades-spanning franchise out of "cat chases mouse".
 And then there's the Warner Brothers, who have dominated the animated shorts game with an ever-growing cast of unforgettable characters from Porky Pig to Daffy Duck to the spotlight stealing wascally wabbit Bugs Bunny. And don't forget those unforgetable foils like Elmer Fudd! 
Here's Bugs and Elmer together in Fresh Hare: 
Ooo, I'll get that wabbit if it's the wast thing I do!
 And finally, there's Walt Disney, who wasn't satisfied with just doing 10 minute shorts and, despite everyone telling him he was insane to do so, gambled it all on feature length animation. Thankfully for him his experiment Snow White and the Seven Dwarves was a major sucess, proving that feature length animation had marketability. Yes, Mickey and Donald are still around, but feature animation is Disney's new master medium. 
And even now Disney is refusing to listen to the nay-sayers and is coming out with a feature length cartoon combining classical music with cutting edge animation that's just breathtaking in scope. Here's a reel from Walt Disney's new Fantasia:
 
I bet you never expected animation to wow you again like it did back in the days of Gertie, did you?
 Animation as an artform, just the way Winsor McCay always envisioned it back when Gertie the Dinosaur graced the screen decades ago.
So animation has grown to become an established part of the cinematic revolution. We've watched it go from early hand-drawn experiments to "talkies" to color to feature length films. Meanwhile, this new "television" medium that's been slowly trying to break the bounds of experimentation and rich man's toy, seems like the likely next step. 
We at the Cabaret will be eagerly awaiting what comes next.
Let's have a toast, with a warm winter defroster, the Tom and Jerry Cocktail:
Tom and Jerry Cocktail:
[image from whatscookingamerica.net]
1 Egg
1/2 oz Simple Syrup (or substitute 1 tsp powdered sugar)
1 oz Dark Rum
1 oz Cognac or Brandy
Hot Milk
 Separate egg white from yolk and beat both seperately. Fold together and add to an Irish Coffee glass or mug. Add syrup (or sugar), rum, and brandy.  Top off glass with hot milk and stir. Garnish with fresh grated nutmeg.
* I know a lot of these archaic stereotypes in these old cartoons are potentially offensive to my readers and for that I apologise if anyone is offended, but I'm going to quote Whoopie Goldberg from her intro to a Tom & Jerry collection, as it captures my thoughts perfectly: "The cartoons you are about to see are products of their time. They may depict some of the ethnic and racial prejudices that were commonplace in the U.S society. These depictions were wrong then and they are wrong today. While the following does not represent the Warner Bros. [or any other studio today, I hope - Cap'n] view of today's society, these cartoons are being presented as they were originally created, because to do otherwise would be the same as claiming that these prejudices never existed."