Action! Excitement! Glamour! This Sunday,Sunday, Sunday, coming to a ring near you! It's Professional Wrestling! And...seriously, is this for real?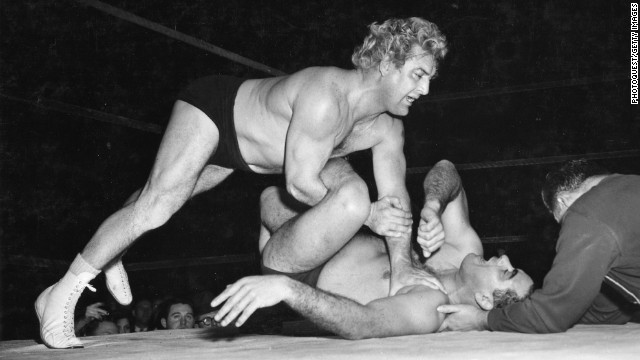 Once the game of carnival side shows and shady back-room rings, the sport of Professional Wrestling is getting huge, as are it's competitors. Always an action-packed clash of the manliest of men, the new generation of wrestlers with the World Wide Wrestling Federation (WWWF) is putting on a show like never before, with flashy acrobatic moves, flashy titles and outfits, and even theme music!
Which starts to beg the question: how much of this is real, and how much are they putting us on?
You may remember the emergence of Pro Wrestling onto the international stage a couple of decades back thanks to the Gold Dust Trio of long-time champion Ed "Strangler" Lewis, his manager Billy Sandow, and wrestler Joseph "Toots" Mondt. These three brought the sport out of the side shows and into the limelight.
But today, the light is brighter than ever with such towering personalities as Steve "Crusher" Casey, the unbeatable giant Maurice "The French Angel" Tillet*, and tonight's main event, the towering but effeminate Gorgeous George Wagner! [pictured above (from cnn.com) and to the side (wikipedia)] Tonight he clashes with Greek colossus Andreas Lambrakis for the title.
With his silk robes, perfumed "disinfectant", hammy presence, abject cowardice in the ring, and penchant for cheating, Gorgeous George seems to be the most hated man in wrestling, a real heel** of a guy.
While his opponents are large, hairy, hyper-masculine presences, this effete pretty boy with his long, blonde locks is met with boos every time he enters the ring.
Now, far be it from anyone here in the Cabaret to complain about his style (hell, we're all good friends of Cole Porter and his boys, we're not throwing any stones), it does make you wonder how such a man can survive, none the less thrive in the ultra-manly WWWF.
Wait, hold on, the loudspeakers are starting to play "Pomp and Circumstance", Gorgeous George's theme song. He plays it every time he enters the stadium.
Here he comes now, strutting down to the ring like he owns it! This crowd is ready to stand up and kill him, yet on he smiles as if the most beloved man in the world!
That cocky son of a...man, now I'm hating this guy!!
It seems his valet can't make it, so he'll be spraying his own disinfectant perfume about the ring. Chanel Ten...no "half measures"...cute. 
This is embarrassing me, and I once wore a sequined tuxedo and top hat in a show.
Oh...a bit edgy about his pretty hair...
*ding ding!* Okay, there's the bell, and here we go!
Wait, did he just hit the ref?
Did he just flagrantly cheat? Is that ref blind?!?
Ouch! That move can't be kosher! You could break a man's neck!
Wait...that wily bastard George set up a fight between the ref and his opponent! My god, I can't believe it! The ref and Lambrakis are throwing punches at each other!
Disqualified?!? Are you serious?!?! This can't be real!
Gorgeous George wins the match through deceit! The crowd is enraged! 
How can such a flagrant travesty be allowed!
I can't wait for George's next match...I'll pay good money to see that long haired SOB get his comeuppance!
It's insane! It's wrong! It's...
My god, it's ingenious. 
Hmmm...how can I get into this gig? The Crippling Cap'n? The Brutal Bandleader? I just need a good agent...
Anyway, after a special, rough session of badly organized violence, what we need is a good Special Rough Cocktail. Like Gorgeous George, it combines the sweet and soft with a devastating slam you'll never see coming!
Special Rough Cocktail:
[image from examiner.com]
1 1/4 oz Apple Brandy (i.e. Applejack)
1 1/4 oz Brandy
1/4 tsp Absinthe
Stir well over ice and strain into a cocktail glass.
* possibly the model for Shrek!
** Gorgeous George wasn't the first "heel" in Pro Wrestling, but he was the one who made it into an art form. He was also the first wrestler (face or heel) with an entrance song and the first with an over-the-top character, influencing not just future wrestlers, but other athletes, including Muhammad Ali, whom he famously told "A lot of people will pay to see someone shut your mouth. So keep on bragging, keep on sassing and always be outrageous."