WAR!!!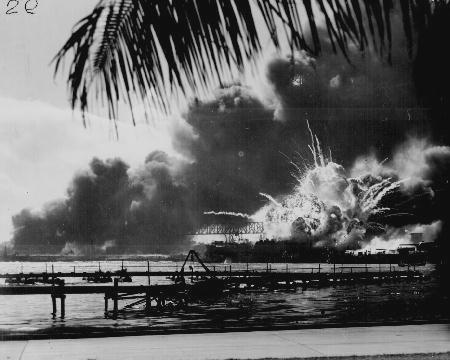 Horror of horrors, War has come to the Cabaret!  That dastardly Tojo hit us with our pants down and sucked us into this second World War.  I told you that neutrality thing was a bad idea and that we'd eventually be pulled into this war, right?  But we're not taking this one laying down.  The nation is mobilizing and it won't be long until we're kicking down Hitler's, Mussolini's, and Tojo's doors!
The whole band has signed up for the Army, but it doesn't look like we'll be doing much fighting, as Uncle Sam beleives we'll be doing more good for the war effort with the USO, raising morale and rallying the troops.  So we're here in Washington, DC, giving our boys the show of their life before they head off to keep the world safe for democracy!
Send the word that once again, the Yanks are Coming! (hit it, Glenn!)
And to toast our coming victory, an old favorite of the First War, the Allies Cocktail: English Gin, French Vermouth, and Russian Kummel all blended into one potent force! 
Go at 'em, Boys!
 Allies Cocktail:
1/4 oz London Dry Gin
1/4 oz Dry French Vermouth
12 Dashes Russian Kummel (or substitute Aquavit or Vodka infused with cumin, caraway, and fennel seeds)
Stir well over ice & strain into a cocktail glass.
[Image courtesy of Savoystomp.com]