What could be better than a nice trip on a fancy steamship or the thrill of flight?  How about both at the same time?  It's the Flying Boat, the miracle of the skies that takes you where no other aircraft...or ship...can!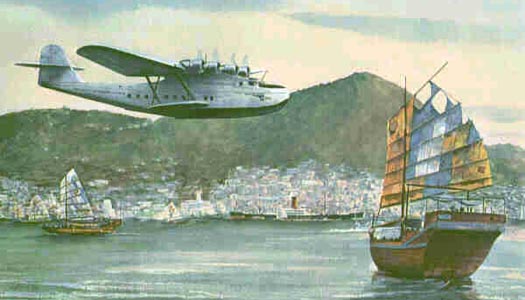 Yes, after the rather unfortunate time I had on the Hindenburg (I'm lucky to be alive!) I've given up on Airships and put my faith in the Flying Boat.  It takes off and lands on water, meaning there is no necesity of a runway, which both opens up new and exotic places to air travel and which eliminates all limitations to size!  [image from flyingclippers.com]
With the recent flight of the China Clipper, the entire world has been opened up to air travel.  Flying down to Rio is a common excursion and Havana is only a few hours away.  The flight Lindbergh made famous a decade ago is now Old Hat with weekly flights across the Atlantic aboard a Pan Am Clipper or BOAC Empire.  The China Clipper has opened up the vast Pacific which even Earhart never managed.  Latecoere boats ply the African coast.  Short Empire Series boats regularly stop by Singapore and reach far Australia, a famous feat by Amy Johnson a few years ago.  Just two decades ago such travel thought the stuff of fiction, yet now all are possible to anyone with the means to pay.  Soon all the world will be linked via airplane, and what a small, cosy world it will be then.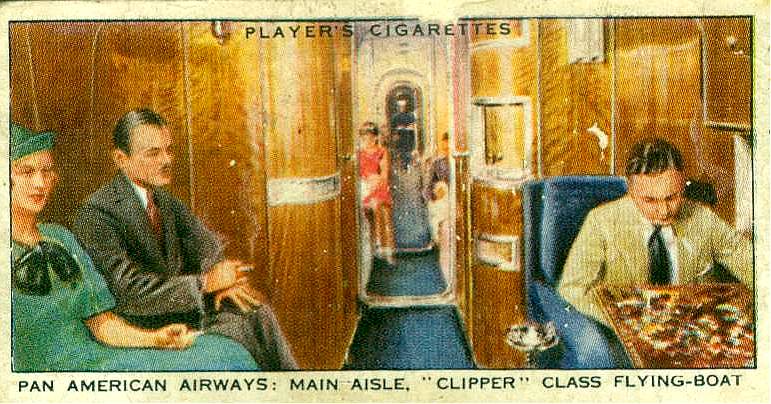 With all (well, most) of the comfort of the Zeppelins and the speed and operating costs of an airplane, it seems obvious (now) that the Flying Boat was well on its way to replacing the Airship even without the Hindenburg tragedy...a tragedy whose cause remains completely unsolved and unknowable and certainly nobody at all is at fault for such a random and freak accident, right?
No doubt about it, the Flying Boat is grace personified, whale entwined with angel and cast in silver.  The only way to travel!
Did I ever mention I love Flying Boats?
To celebrate this technological masterpiece, we have the great Al Jolson who, like us, is Sitting on Top of the World:
And for tonight's cocktail, a Pan Am original, the Clipper Cocktail:
Clipper Cocktail:
[image from drinks.seriouseats.com]
1 1/2 oz Light Rum
1/2 oz Dry Vermouth
1/2 tsp Grenadine
Shake over ice, strain into a cocktail glass, garnish with a lime peel.  Note: this cocktail is an encore presentation formally posted in Cabaret #15.
So enjoy this new Age of Aviation and the freedom of travel it brings us, people!  With luck, it'll never lose its charm or its grandeur!
Lord forbid it simply become a dull, routine mode of travel with angry folks stuffed into some sort of cramped air-bus!
Bon Voyage!
Cap'n...