Hello again, you crazy Cats and cool Chicks!  Ready to join the Cabaret on an exciting flight across the Americas?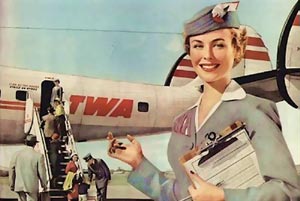 With travel arrangements on board a luxurious TWA Constellation ("Connie"), the largest and fastest land-based passenger airliner yet built, we'll tour the lower latitudes of our western continents with stops in tropical Yucatan in Mexico, spicy Trinidad in the Caribbean, and, finally, cosmopolitain Buenos Aires in Argentina!
And not a moment too soon for us in the Cabaret.  The honorable Senator McCarthy is a little too interested in us here at the Cabaret, what with our lax attitudes on the mixing of races and the political persuasions and lifestyles of some of our friends and members (and our unwillingness to rat them out).  Not to mention that a mimeograph of a certain letter home from Moscow, which managed to lose our covert message in the copy process, has ended up on Mr. Hoover's desk, painting us pink in the Director's eyes. 
All said, it seems a good time for an extended South American music tour, don't ya' say?
And celebrate we will!  First Stop, the little boom town of Mérida in the Mexican state of Yucatan!  It's like...Margarita City or something.  Villa del Margarita?  (There's a song in there somewhere, I can feel it...). 
This tropical peninsula, home to the magnificent ruins of the ancient Maya -- and their modern descendents as well -- is a place lush with canopies of ancient  trees too tall to comprehend if you haven't seen them.  The waters glow a bright azure off of beaches as white as snow.  The people are friendly and beautiful, and the music is as hot and inviting as the tropical sun!
But tonight we call in Calypso to come play with us as we sip those cool new Mexican cocktails called Margtaritas and kick back on the white sand beaches.  Performing tonight is a Harlem, NY, native named Harry Belafonte, a young man with a swing way beyond his years who has brought the exciting new Caribbean sound of calypso music to the American masses.  He, too, is under Senator McCarthy's magnifying glass and he was quite happy to tour with us.  Tonight he performs a cover of calypso legend Lord Kitchner's hit "Jump in the Line".  I dare you to listen to this without wanting to get up and shake those hips!  Even the dead will want to get up and dance!
And if that doesn't work, have another Margarita and you may just change your mind...
Margarita Cocktail:
[image from launch787.com]
2 oz Tequilla 
1 oz Cointreau or other Triple Sec
1 oz fresh squeezed Lime Juice
 Rim the outside edge of a Margarita or Coupe glass with lime and coat with coarse salt. Fill with ice. Pour all ingredients over ice and stir. Garnish with lime wedge or slice. Author's Note: this is an old and very basic recipie for the Margarita. If your only experience with the Margarita has been with the tequila-spiked lime slushies at your local Chi-Chi's and/or with the premix bottle from the supermarket shelf (both of which are mostly high fructose corn syrup, citric acid, and yellow dye #5), you are in for a shock.  You'll likely find this cocktail far more strong and sour than your previous experiences.  If you find this too sour, change the ratios of the Cointreau and lime juice.  The International Bartender's Association (IBA) currently specifies a 7-4-3 ratio of Tequila to Cointreau to lime juice.  You can also sweeten it with sugar (ok), simple syrup (good), cane juice (better), or agave syrup (best!).  As I've mentioned before, experiment and find the taste that's right for you! 
---
Next stop, Trinidad!! Spicy land of the steel drum band and the world headquarters of Carnivale!
 This little island off the coast of Venezuela is taking the world by storm with its music and culture.  Don't beleive me?  When was the last time you visited a party where the Limbo Stick didn't come out by the end of the night?  Yes, the little song that's taking the world by storm!  And will you beleive it is actually an ancient African funerary rite?  How Low can you Go indeed?
Performing his top-selling "Limbo Song" tonight is none other than Frankie Anderson himself!  And with it, how about the island of Trinidad's signature cocktail, the epynomous Trinidad Cocktail, made from the island's popular Angostura Bitters, whcih even cocktail amatures know from basically every brown liquor cocktail in the base set.  Distilled and flavored right here on the island from a local bitter root (among other botanicals) the folks here drink it straight as a spicy way to start the day!
Trinidad Cocktail:
[from cocktailchronicles.com]
1 oz light Rum 
1 tbsp fresh squeezed Lime Juice
1 tsp Sugar
2-3 dashes Angostura Bitters
 Shake over ice and strain into a cocktail glass.  Author's Note: this is one of several dozen recipies for the Trinidad Cocktail I've found, all of which share only Angostura Bitters in common.  To me, though, it's the one with the best potential to showcase the bitters, which are the signature spirit of Trinidad.
---
And finally, we reach our destination: Buenos Aires, Argentina!
This jewel on the Rio de la Plata is one of the New World's oldest colonial cities, and was once one of the crown jewels of the Spanish Empire.  Of course new president Juan Peron has his eyes on making it so again.
We were met at the airport by the president's lovely wife Eva, known and adored by the masses as "Evita" to whom she has become a beloved figure, the face of the regime's humanitarian efforts.  And such efforts have been myriad, it must be said, with initiatives to end poverty and bring dignity to the working masses.
And yet...despite his friendly demenor and his lofty goals and grand language I just can't shake an odd feeling of deja vu from our time in Mussolini's Italy.  Maybe it's the uniform, or the grand speaches and pagentry, and (let's face it) the continued blind eye he's turned to the many Nazi expats in his country.  Is this guy a grand reformer, or a fascist-in-waiting?  It's entirely hard to tell.  Perhaps history will have a more solid read on this guy.
But we're not here to talk politics (we're trying our best to escape them ourselves!), we're here to make music and make merry!  Buenos Aires is a growing city with its own night life and bustling activity.  It's like Manhattan shaken over Madrid with a twist of Havana. At the rate its going it may soon come to rival the great cities of North America and Europe.  It will certainly rival them in my heart.  Lord knows a glass of cool Clericot and a nice solo from featured local artist Astor Piazzola, who tonight brings us his hit 'Oblivion", do wonders to help you set aside your day's worries and just focus on the simple pleasures of life. 
Politics ebbs and wains like the moon, but true art and beauty are as eternal as the stars.
Clericot Cocktail:
[photo from todometro.blogspot.com]
2 bottles dry Rose wine 
Assorted fresh fruit of choice (typically citrus, bananas, strawberries, peaches, apples, or blueberries)
Sugar to taste
 Cut up fruit and add to wine along with sugar.  Let sit in refrigerator for 2-3 hours.  Serve cold over ice in a wine glass or goblet.