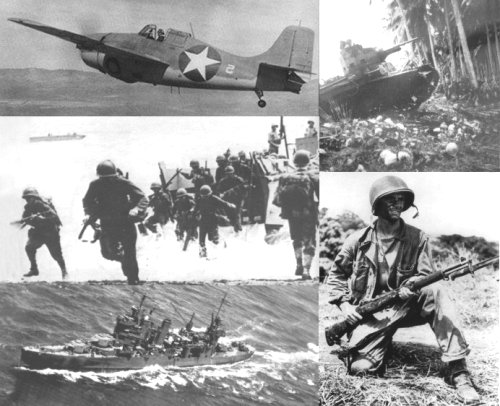 Anchor's Aweigh and Always Faithful!  Tojo is holed up in the Solomon Islands and we mean to boot him out!
 Our friends Down Under are in a bit of a pickle as Tojo's forces press through the Dutch West Indies towards Australia itself!  But fear not, for the American Navy and Marine Corps are here to help!  Oh, and the Aussies and Kiwis aren't taking things laying down either!  We're stompin' up the slot here, kicking Tojo back one island at a time.  It's turning out to be a hard slog here as they aren't about to give up.  All those who thought the Japanese would just roll over and play dead are getting a nasty surprise...but once again those British Empire folks are calling "told ya' so's" on us.
As the Marines fight a harder-than-expected battle on Guadalcanal we're on hand on the USS Hornet giving a show to keep morale up as the fight drags on.  And it's our pleasure to feature those fabulous Merry Macs, the crooning quartet who brought us Sentimental Journey (though the Sailors and Marines have more to say about Mary Lou's gams!).  Here they perform their wartime hit "Praise the Lord and Pass the Ammunition".  It seems somehow appropriate given the circumstances...
Those four can croon, right folks?  We certainly appreciate the message here in paradise.  And Paradise is the cocktail for tonight, the Paradise cocktail.  A bit ironic considering how Tojo's agression is turning paradise into a living hell, but still, a bit of gin and apricot brandy will do well with those oranges Gunny Garrison "liberated" from that plantation.
Paradise Cocktail:
1 1/2 oz Gin
1 oz Apricot Brandy
2 oz Orange Juice
 Shake over ice, strain into a cocktail glass.