VICTORY!!  At long last this horrible war is over!  The authoritarian powers of Europe are all in collapse and it appears that the flowering of democracy is in bloom, like the Poppies that now sprout over Flanders fields.  With Wilson's new league of nations to shepherd the new peace and freedom, we may soon come to know the 20th Century as the Century of Peace.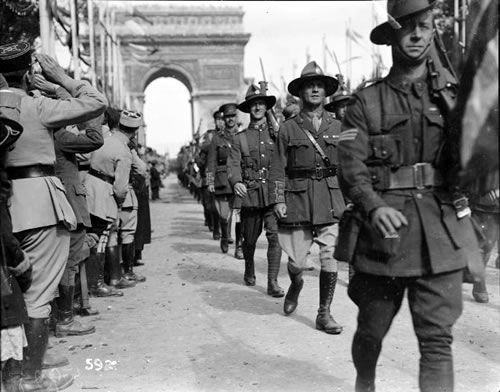 Yes, at long last, with literally millions dead, the Great War, the War to End All Wars, has ended in Entente victory.  [image from nzhistory.net]  It's hard to believe after so many years of apocalyptic struggle that it can be over.  From the first aggressive drives of 1914, through the stasis of the trenches with its gas, tanks, shells, and bombs, from the cities where the planes and airships dropped their bombs, across the seas in a worldwide  struggle that sent thousands of tons of shipping to the bottom of the sea, to the last, desperate pushes that led to the final, long-sought END.  To believe that it would all come to an end at last on the eleventh hour of the eleventh day of the eleventh month...the moment which brought Armistice. 
This war litterally spread the world over, a first World War, and it left in its wake the deaths of not just millions - yes, MILLIONS!! - of individuals, but of nations themselves and an entire generation lost in Europe.  The entire world order has been flipped on its head.  Russia has collapsed into a Red experiment that is so far proving as brutal as the Czar it replaced (we hope this will die down as the civil war abates).  Italy is in political chaos despite the victory.  Who knows what may arise from there?  The German Reich has collapsed, thankfully into a liberal democracy out of Weimar, but ill feelings fester.  Even the ancient empires of old, Austria-Hungary and the Ottoman Empire, have fragmented into dozens of statlets. 
In the latter case, the quest for petroleum has had the victors dividing the Middle Eastern spoils amongst themselves without a thought for the geographical, cultural, religious, or linguistic lines their mapmakers are randomly bisecting.  Wasn't it the same kind of multinational-pollyreligious problems in the Balkans that started this damned war to begin with? 
But there is hope.  I've had my reservations about that Klansman in the Oval Office, but this League of Nations of his, an international body dedicated to peace, holds real promise.  We may well see peace in our time.
Either way, the boys, including the Cap'n, are finally home.
Let us mourn those whom we have lost.  Let us hope and pray that the world never sees another war like this.
But, also, let us celebrate...not for the victory for its own sake, but for the peace it finally brings.  Strike up the band, and join the parade!
And finally, to my fellow Americans, our old friends the Peerless Quartet to sing our American boys home:
Enjoy a Regent's Punch (a harmonious, worldly amalgamation of spirits and ingredients) with the whole returning company:
Regent's Punch Cocktail:
[image from saveur.com]
1 pint Brandy
1 pint Rum
1 pint Arrack (substitute Anisette, Ouzo, or Sambuca))
1 pint Curacao liqueur
3 cups strong hot Green Tea
3 cups lemon juice
3 cups orange simple syrup
1 bottle Champagne
1 pineapple, sliced
2 oranges, sliced
Combine all ingredients save the champagne and fruit slices into a punch bowl and mix well.  You can let it sit for a few minutes to allow flavors to meld. Immediately before serving add champagne, fruit, and ice.  Stir and serve in punch glasses.  [Adapted from from Jerry Thomas' 1887 Bar-Tender's Guide]