Havin' a Blast in the Nevada Desert!
Welcome, one and all, to the new, restyled* Cabaret!  A new age dawns with the boundless promise of Atomic Energy!  Clean, safe, and cheap, we're just now on the cusp of Utopia thanks to our friend the Atom!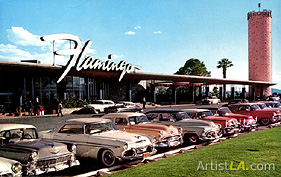 And where better to celebrate than in the new, fabulous, Flamingo Hotel in Las Vegas, Nevada!  I was very skeptical when my friend and agent Benjamin Siegel proposed to make this little desert town the new Atlantic City, but with the fabulous, star-studded grand opening of his Flamingo (mind the construction!) his dream is one step closer to reality!
And what a party it is, featuring such fabulous guest stars as the legendary Jimmy Durante, Clarke Gable, Rose Marie, Lana Turner, Ceaser Romero, Judy Garland, Joan Crawford and so many more!  With music provided by the trendy Latin sensation Xavier Cugat, what more could be greater than to make a tropical escape from the chill of winter with tropical drinks by the pool?
First off, let's...wait, what's this?  A surprise performance by Jimmy Durante, where sings his fabulous rendition of Johnny Richards' and Carolyn Leigh's "Young at Heart":
Fabulous!  Moving!  But in today's jet-speed world we're moving on...to tonight's star attraction, the heart pounding music of Xavier Cugat and his band!
 And as for tonight's cocktail specials, the Pink Flamingo Cocktail (of course) featuring the exciting new, infinitely-mixable Slavic spirit of "vodka", and the Bikini Martini, named for the sexy new swimwear, named in turn for the explosively famous little atoll of Bikini!  So celebrate the new era and the Future that is Now in this gala to end all galas, the Flamingo Hotel Grand Opening celebration!!
...I was expecting more people.
Pink Flamingo Cocktail:
[Image from thedrinkshop.com]
1 1/2 oz Vodka
1 1/2 oz Cointreau or other Triple Sec
Dash of Sloe Gin
Orange Juice
Pour Vodka, Triple Sec, and Sloe Gin into a highball glass filled with ice, top up glass with orange.  Stir well.
Bikini Martini:
[image and recipie from in-the-spirit.co.uk]
1 1/2 oz Gin
1 1/2 oz Blue Curaçao
1 TSP Peach Schnapps
Shake all over ice and strain into a cocktail glass.
* For the time being.  The Cabaret is taking an Atomic journey for the next 10 or so episodes because, hey, why not, Clyde?