Wilkommen im Cabaret, meine freunden!  We're once again in beautiful Berlin, only...well...things have changed a little bit since we last were here.  I guess we should be glad to be here and out of Stalin's, er, hospitality (our great thanks to Mr. Robbins at the State Department for arranging our way home via Stalin's ally Hitler), but somehow it's hard not to think about the phrase "out of the frying pan and into the fire."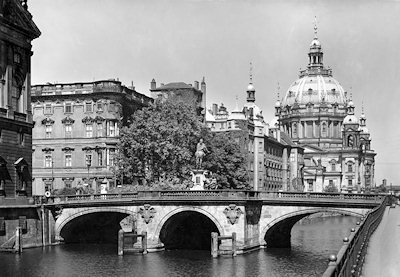 For all it's beauty, and for all the hospitality we've received as cultural ambassadors by Mr. Goebbels, it's hard not to be a little concerned to be in the care of a violent, militaristic government that happens to think your music is degenerate and a large percentage of your musicians subhumans fit only for labor. The beauty of this city is in sharp contrast to the devastation we saw in what was once Poland while travelling by train from Moscow.  I have to grudgingly admit Mr. Hitler has cleaned up the city quite nicely since he took over (well, save for the occasional bombed-out buildings courtesy of the RAF), but damned if he didn't throw out the baby with the bathwater.  The old clubs we galavanted among a decade and a lifetime ago are all closed up by state order and many of our old friends are locked away in ghettoes or in institutions where some Nazi quack tries to "cure" them.
And then, perhaps their greatest crime is what they're doing to music.  Meet tonight's act, Charlie and his Orchestra, Goebbel's own swing band.  Don't get me wrong, Charlie is a nice enough guy and most of his band as well, but it's like watching talented painters who've been forced to work with only two of the three primary colors as they neuter their music to meet state requirements:
 He tries...
Luckily there's still a decent underground scene if you know where to look, and some of our bandmates have played some backrooms where true swing still holds sway.  We can also note that all of us, Aryan or Negro or Jew, seem to be equal when we're huddled -- trulyunderground -- as the bombs start to fall.  But in the meantime, drink and be merry with tonight's cocktail, the Embassy, in celebration of the US Embassy that's going to get us home and away from war:
Embassy Cocktail:
- 3/4 oz brandy
 - 3/4 oz Jamaican rum
 - 3/4 oz Cointreau
 - 1/2 oz lime juice
 - dash of Angostura bitters
Shake over ice, strain into a coktail glass, garnish with a lime wedge or twist of lime.
And now we board a Midnight Train from Berlin that will take us through the devistation of Occupied France (another trip that will be difficult for us, I'm sure) and on to neutral Spain for our trip home.
In the mean time, we seem to have had a slight paperwork error, since the size of our band and crew has apparently just doubled in size according to papers provided to us by Hermann Goering's brother Albert.  Our new crew are very friendly and glad to be on the team, though their German is generally strangely accented.  It's almost as if they were actually speaking Yiddish...
Gezegunung und Shalom, khaveyrim!